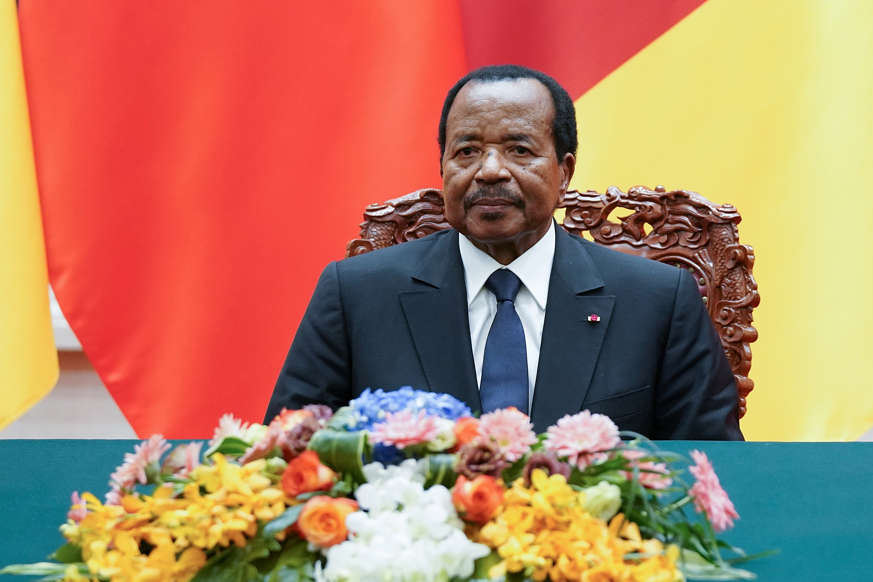 While President Paul Biya appears to be a shoo-in to extend his 36-year rule in elections next month, he's had no success in stifling a rebellion in Anglophone regions that's threatening to split the mainly French-speaking central African nation.

Africa's second-longest serving head of state, Biya, 85, is facing eight candidates in an Oct. 7 vote that will be overshadowed by insurgent attacks, a violent clampdown by the security forces and a drop in production in Cameroon's biggest cocoa-growing areas. Thousands of people have fled to neighboring Nigeria.

The situation's become so polarized that days after Samuel Kleda, the archbishop of the commercial capital, Douala, called for mediation to avert "a useless, senseless civil war" and urged Biya to step down, shots were fired at the cleric's residence.

Unrest that began in late 2016 with peaceful protests by teachers and lawyers against the dominance of the French language in schools and courts in the nation's two English-speaking regions has morphed into a conflict that's claimed the lives of more than 120 soldiers and police officers, destroyed schools and farms and blocked major roads.
Fearing Reprisals
"I'm not surprised this happened," said Agnes, a 66-year-old former civil servant who fled her farm in the Southwest Region where she'd hoped to retire and now lives with her son in the capital, Yaounde. "When there's a lot of repression, there's going to be an explosion," she said, asking not to be identified by her family name.
Like Agnes, many Cameroonians are afraid to speak publicly about the country's worst crisis in decades, fearing both the secret service and reprisals from the secessionists.
In a bid to sabotage the start of the school year this month, separatists murdered the headmaster of a primary school and abducted six girls from a secondary school. On Saturday, gunmen seized an excavator and dug a trench in a highway to the Northwest's regional capital, Bamenda. They forced buses to stop and killed two passengers. The government responded by imposing an indefinite nighttime curfew in the Northwest Region.
Escalation of Violence
"Nothing can justify the atrocities committed by criminals who lay claim to the secessionist movement with their only goal being the disruption of the 2018-19 school year," government spokesman Issa Tchiroma Bakary said on Twitter. "We must all condemn in the strongest possible terms this escalation of violence."
Oil-dependent Cameroon is increasingly a key regional hub, with roads and ports that are vital for landlocked neighbors including Chad and Central African Republic.
The only country in Africa with both English and French as official languages, Cameroon was split after World War I into a French-run zone and a smaller British-controlled area. They were unified in 1961, but the English-speaking minority, about a fifth of the population, has complained of marginalization for decades. Only in recent years did the struggle become violent.
"It's taken this magnitude because there was no anticipation and no early efforts to quickly resolve the crisis," Manasse Aboya Endong, a political science lecturer at the University of Douala, said in an interview. "Now, the movement has been hijacked by radicals who want to split up the state and refuse all mediation."
At the same time, advocacy groups such as New York-based Human Rights Watch have documented evidence of troops killing protesters, jailing hundreds of people and burning down villages — allegations the government denies.
Widespread Discontent
The rebellion has highlighted widespread discontent with Biya and his handling of the crisis. Biya rules mainly by decree and often spends weeks at a time at the Intercontinental Hotel in Geneva for "private visits." Government spokesman Bakary has defended the trips, saying Biya works very hard while he's in Europe.
Biya has convened only one cabinet meeting this year, the first since 2015, and hasn't addressed the revolt apart from a brief statement in November. His decision to run again was announced on Twitter.
"Nobody knows what the guy is thinking," Akere Muna, a 66-year-old opposition candidate whose late father Salomon was Cameroon's first Anglophone prime minister, said in an interview. "We have tens of thousands of people who are internally displaced, thousands of kids who can't go to school, and yet the president doesn't speak. We are in a rudderless ship."
© Bloomberg Cameroon Presidential Candidate Akere Muna Interview Despite Biya's absenteeism, Cameroon's opposition has never been able to effectively unite and unseat him in elections.
Calls for talks between the authorities and the insurgents have so far fallen on deaf ears. The government refuses to release secessionist leaders who've been in prison since January following their expulsion from neighboring Nigeria. That's left the movement without a visible leadership, while Anglophones who don't support secession are accused of being sell-outs by those who call for armed struggle.
Moderate Anglophone leaders are now pushing for a general conference to choose representatives and persuade the government to hold talks.
Initially scheduled for Aug. 28-29, the conference has been postponed to avoid tensions surrounding the presidential vote and to allow more time for Anglophones in the diaspora to attend, said Simon Munzu, a former senior United Nations official who is organizing the conference.
"We believe that this will nudge them towards a national dialogue," Munzu said in an interview. "We can have federalism at a low cost now or separatism at an exorbitant cost on the population, and we have to weigh those costs."
Follow us: @earthpublishers on Twitter | EarthPublisher on Facebook